November 2017 Shawnee market update
Here is a snapshot of the Shawnee market update for November, 2017.
The facts of residential real estate have remained consistent in 2017. In year-over-year comparisons, the number of homes for sale in Shawnee has been declining from July 2011 until February 2017 when we've been steadily increasing. In February, there were 141 houses for sale, and in November, that number grew 57% to 222. Over the past six years, homes in Shawnee have been selling in fewer days for higher prices.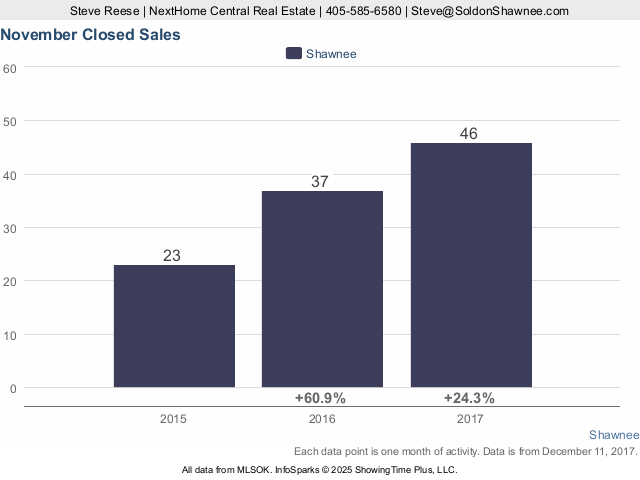 Compared to November last year, the number of closed sales was up 21.6% to 46; new listings of single family homes in Shawnee jumped from 38 to 54, or 42.1%. That's down about 11% from October 2017. Pending sales are up slightly from 32 to 34, or 6.3%, and inventory of available listings increased 46% from 150 to 219 from last year.
The average sales price for single family homes in Shawnee had a modest 9.3% increase to $148,560 from November 2016. That's about 13% higher than October 2017. Shawnee's days on market increased 10.9% to an average of 61 days for single family homes, up from 49 days in October. The months supply of inventory in Shawnee increased 46% to 5.1 months over last year, however that number is only up slightly from October's 4.9 months. Since February 2017's low of 3.3 months supply, we're in a nine month upward trend, giving more favor in the market toward buyers.
Over the first 11 months of 2017, the number of closed sales of single family homes in Shawnee was up only 2.2% from last year with 471 sold. The average sales price in Shawnee had a small increase of 4.3% to $140,264.
The two houses of Congress have passed a version of The Tax Cut and Jobs Act, so now a Conference Committee will begin to address the differences between the two bills. Both bills have negative long-term ramifications on housing by eliminating the mortgage interest deduction and other local and certain state real estate state tax deductions that will discourage itemization.
The White House believes the impact on home prices will be small, lowering them by less than 4 percent and could conceivably boost homeownership. Being a staunch advocate for private property rights, I have joined  REALTOR® colleagues across the country encouraging Congressman Steve Russell, Senator Jim Inhofe and Senator James Lankford to maintain the current law for the mortgage interest deduction and capital gains benefits. All three voted in favor of the bills. Congress has the ability to address the state and local tax deductibility issue by expanding the provision to include income taxes, raising the cap and indexing the cap to inflation. These changes and retaining the current law makes the bill more favorable to homeownership. Until the final bill comes out of Conference Committee, this story is still evolving.
Locally, we would probably not see an immediate consequence of the proposed legislation due to our low cost of housing and standard deductions being greater than many mortgage interest deductions. The problem as I see it is Congress will have opened the door to future changes that would further deteriorate the financial benefits of homeownership, eventually having an adverse impact on the economy. I remain hopeful though!
Shawnee continues to offer an incredible value for home prices and cost of living compared to rest of the Oklahoma City metro area. I like to monitor what our market is doing so I can answer the questions people like you have. For a historical visualization of Shawnee housing market trends, visit the Shawnee Market Stats page of SoldonShawnee.com.
---
If you would to discuss your particular property and how recent sales affect your home's value, just call/text me at (405) 585-6580 or email Steve@SoldonShawnee.com. The data used in this blog post is from a research tool provided by MLSOK.